HIGH END
TURNTABLES
and
VACUUM TUBES
AMPLIFIERS
"Control B Pre-Amp"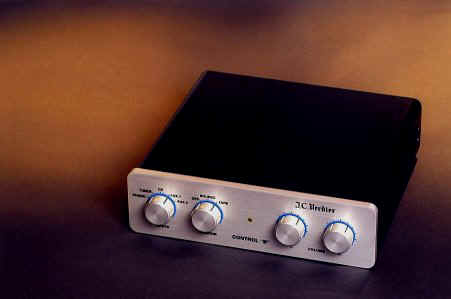 Control B - Metal knobs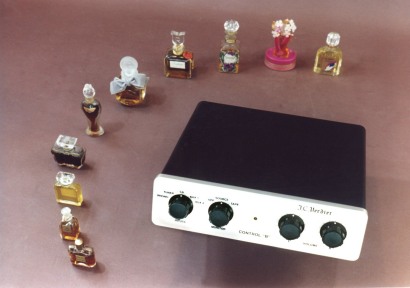 That new preamplifier is built in a modulated structure, that is to say that the different functions are reassembled on removable PC boards and all is foregone to add - without any adjustment - at each moment a new PC board, either to hold a new function, or to " upgrade " an existant function.
The housing is ingeneered to carry out a maximum rigidity by the using of a 25/10 thickness steel sheet which protects in the same time against the different electromagnetical rays.
The front plate is available in 2 versions, one is standard light grey laquered and the other in 10mm aluminum finely brushed and champagne coloured.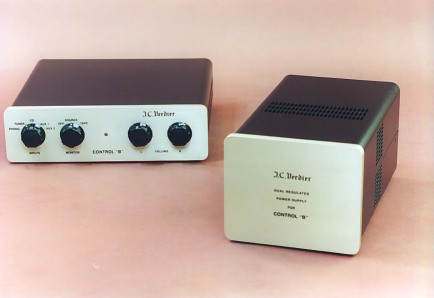 The external power supply conductes to a very attractive, signal/noise ratio especially on the Phono position.
A luxury power supply (see photo) is sold in option : Dual regulated power supply.
INPUT SELECTOR AND WIRINGS
When it is fitted with all its removable PC boards, the preamplifier CONTROL " B " has 5 stereophonic inputs and one input/output in monitoring for Tape recorder which maximum sensitivity and impedance are specified in the following chart:
The volume adjustments are made by separated potentiometers on each channel.
At 1 KHz

Sensitivity 0Db output

Impedance

PHONO MM

1 mV7

47 K Ohms

PHONO MC

0 mV3

4 /40 Ohms

TUNER, CD, AUX 1, AUX 2

100 mV

100 K Ohms

TAPE

100 mV

100 K Ohms
LINE AMPLIFIER

The line amplifier works for the amplification and the impedance decrease necessary to connect a source to a power amplifier.
Each channel is made up of 3 triode tubes ( 1/2 12AT7 , ECC81 , 6201 ).
The first stage wired in cathode follower gives a large input impedance and modulate the second stage wired in µ follower which gives the amplification and the low output impedance . The absolute phasis is observed. The gain is foregone for 0 , 6 , 10 , 14 and 20dB.
PHONO AMPLIFIER
The phono amplifier is ingeneered to realize the deamphasis according to the RIAA norm and the very important amplification enough for the moving magnet cartridges - 2 transformers with µ metal magnetic circuit allow the using of moving coil cartridges-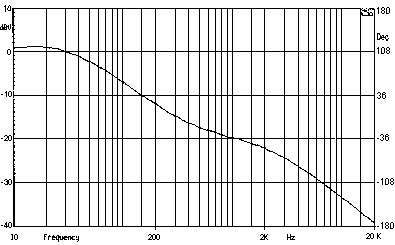 Each channel is made up of 3 triode tubes ( 1/2 12AX7 , ECC83 , 7025 ) with very low noise and very low microphonia. The first stage wired classical manner with a metal resistor in an anodical circuit strikes up a second stage wired in p follower, that last sends back in feedback by a RC filter a part of the signal in the first stage cathod and gives the RIAA correction respected untill 20 Hz as shown on the following curve. The absolute phasis is observed.
Designed very carefully around original diagrams and scrupulously produced, we are certain that our new preamplifier CONTROL " B " will be classified soon among the best available products, without regarding on the sale price which stays reasonable.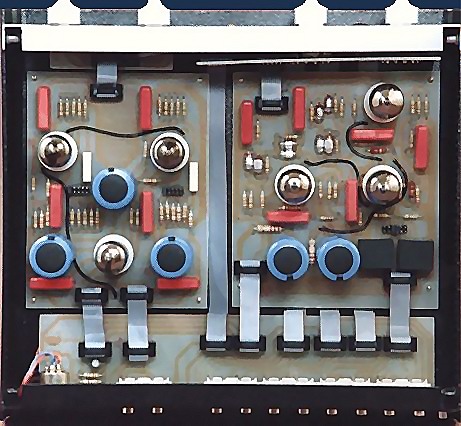 <! *----------------------------------------------------------------*>
You aren't going to see QT if you don't allow EMBEDs!